Britain based, Portuguese Philatelic Society (PPS) was recently awarded the prestigious Invaluable Services Order award from the Portuguese Philatelic Federation (FPF). This award was presented to the PPS at a dinner function hosted by the FPF in Lisbon on the 4th December, 2004.
Federação Portuguesa de Filatelia (FPF) celebrated 50 years of its existence last year and they ended their year long festivities with a great gala dinner for members and invitees at the old FIL expo site at Alcantra, Lisbon area. The PPS attended the function with a contingent of about 10 people from the UK and USA.
During the function, the PPS was awarded the MEDAL OF INESTIMABLE MERIT and our honourable president Mr Hal Reynolds received it on behalf of the PPS.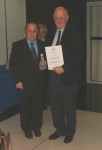 During the function also, distinguished PPS member, Mr John Dahl was awarded an award for his contribution to Portuguese Philately.