Dear Members,
Happy to announce the PPS Auction 2020 which is scheduled to take place, coinciding with the PPS Annual General Meeting, on Saturday March 14th, 2020.
Sincere thanks to our Auctioneer Ron van der Holt for having produced the catalogue of this year's auction.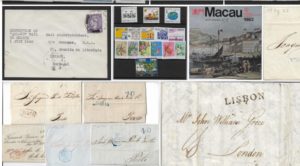 The auction has about 60 lots coming up for bidding, which are described in the catalogue. The images for all auction lots are now available for viewing on our website.
Please note while most of the of the lots show the single "front" side image, some of the lots have multiple images associated with them.  In case any member wishes to view the "reverse" side scan(s), s/he is requested to contact Ron via email (ronvanderholt@msn.com) for further assistance.
To view the auction "Lot number", please click on an image first and then click on the "1" icon, located at right hand corner bottom.
Happy Viewing and Happy Bidding !